Quilt History
Reverend Peter L. Wilson Quilt
The Reverend Peter L. Wilson Quilt was made in 1848 as a presentation quilt. He was the assistant pastor for the Greene Street Church for only one year. The name Reverend Henry Varden, who was the first minister of the Green Street Church in 1843, appears on the elaborate Bible block located below the Green Street Church block. The less elaborate Bible block above the Green Street Church block has Reverend Wilson's name on it.
The Green Street Church block depicts the West Baltimore Protestant Church at Lombard and Green Streets in Baltimore, Maryland. The Green Street Church grew out of St. Johns Methodist Episcopalian Protestant Church when a small group of families separated from the parent church in a controversy over the custom of selling or renting of church pews. St. Johns wanted to charge for the pews. The breakup seemed amicable as St. Johns gave the Green Street Church $6,000 to build.
The quilt was donated to the United Methodist Historical Society (Lovely Lane Museum) in Baltimore in 1975 by Frank R. Mueller. His wife, Anna Little Mueller, was the great granddaughter to Reverend Wilson. In the letter to the Museum, Mr. Mueller wrote that the quilt was made by Mrs. Jacob Deems. Her signature and Louise Wigart's are the only blocks that are signed on the entire quilt.
In a separate letter to the Museum, a second cousin to Anna Little Mueller, wrote the following:
"Mr. Mueller hopes that many will have the opportunity to admire the beauty of the quilt and marvel at the patience and intricate work of the women of that period who apparently did such handwork for the sheer joy of making something beautiful and bringing joy to someone else."
Doesn't this say it all for the quilts that we are making today?!
Joy to others as well as to ourselves!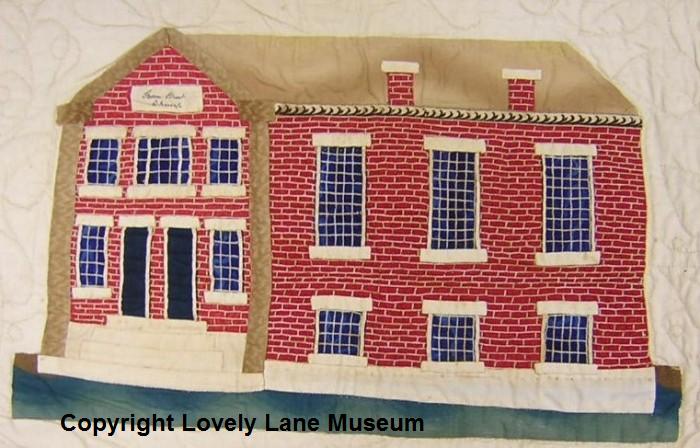 Green Street Church
See more histories