Quilt History
Eliza C. Slicer
I recently taught a block from the Dr. Reverend George M. Roberts Quilt (dated 1847) that was made by Eliza C. Slicer. After researching her name, I discovered that she was the wife of the Reverend Henry Slicer. It is also thought, but not proven, that she was the sister of Dr. Reverend Roberts. Eliza was born in Baltimore in 1808 and married Henry Slicer on April 3, 1827. They had three children, Julia (b. 1836), Sarah (b. 1847) and Thomas (b. 1847). Reverend Slicer was one of the most prominent members of the Baltimore Conference, a delegate to eight general conferences and for fourteen years a presiding elder. He not only served all of the leading churches of the conferences, but also gave eight years of service (1862-1870) as chaplain of the Seaman's Bethel. A quilt in his honor has not yet surfaced.
The block that Eliza made was a very common block found in many other Baltimore Album Quilts made between 1846 – 1852. This same block is repeated three times in the Reverend Hezekiah Best Quilt! See the
2008 Baltimore Album Quilt Engagement Calendar
which will be published in August of 2007 - watch this site for more details. In the newly published book
Quilts of Virginia
(page 57), this same block is repeated 36 times to make an entire quilt (Latham Signature Quilt, circa 1851-1857). I feel that it must have been a very popular block pattern which became available for many to use.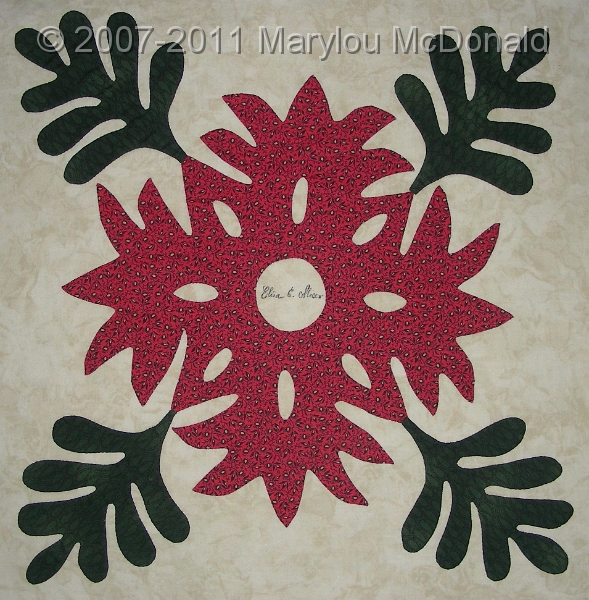 Paper Cut Block
Rev. Roberts MLU-R-2
See more histories