Quilt History
Reverend Hezekiah Best Quilt
The Rev. Hezekiah Best Quilt (1846-1847) is a thirty six block unbordered quilt which was presented to him by members of his congregation – the Seaman's Bethel Mission. Thirty four of the blocks have signatures.
Rev. Best was a member of the Baltimore Conference for 30 years and worked with the Seaman's Bethel Mission between 1842 and 1847. The Mission was interdenominational but supervised and supported by the more wealthy Charles Street Methodist Church. A block near the center of the antique quilt, C3,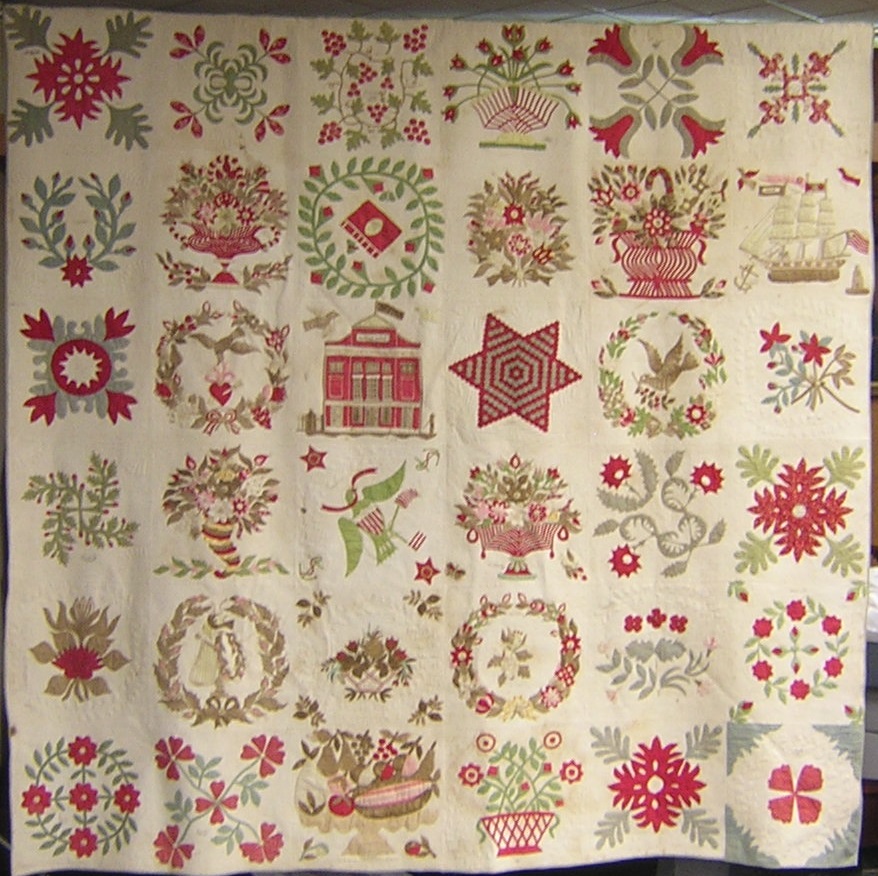 depicts the Seaman's Bethel Mission which was located between Bethel and Aliceanna Streets in Old Town Baltimore. The Mission block has three entrances at the front. One could assume the traditional pattern for right side entry for men and left for women to separate gendered seating. The middle door could possibly have been used by both sexes. See my Inspirations of Baltimore Quilt below and my reproduction of the Seaman's Bethel block (A3).
In later years and up to 1970 Goodwill Industries used the building as a "small wares shop" – junk shop. The building collapsed in 1978.
Another block of interest is the ship "Hope" (F2). According to Rev. Best's great-grandson, Alfred S. Best, "the Bethel's chaplain established a Seaman's Home, and ran a training school for boys on board the ship 'Hope', which had been purchased by the Mission trustees." See my Inspirations of Baltimore Quilt, Block C4.
Adeline Best, Rev. Best's wife, made the block pictured (B6). This unique block with hearts as flowers could have symbolized her love and affection for her husband. Of course, we have no way of knowing why she chose this design as there is no diary that has surfaced to date. This is a good example of why we as quilters should make a label or keep a diary of any symbolism that we use. It would make it so much easier for those examining our quilts in 150 years!
The Adeline Best Block
Rev. Best MLU-B-1
See more histories