Quilt History
Rev. Lipscomb Quilt Presidential Wreath Block
Reverend Lipscomb was the minister of the High Street M.E. Church from 1846 – 1847. This church grew rapidly from a Sunday School in 1842 in a frame house on Pratt and East Baltimore Streets to the church at the corner of High and Stiles Streets in 1844.
A Baltimore Album Quilt was made for Rev. Lipscomb upon his departure from the High Street Church. The quilt is made up of 25 blocks with 16 of the blocks made of expensive chintzes and rainbow fabrics. Twenty one of the blocks are signed with full names. The chintz fabric border could have been the inspiration for five Baltimore Album Quilts which have appliqué borders resembling the chintz fabric. In addition, white thread was used for the appliqué; the quilt was album quilted and the binding was a twill tape. Many of the fabrics used in the Lipscomb Quilt can be found in the Rev. Best Quilt except that the Lipscomb Quilt fabrics have maintained their colors.
One block in the Lipscomb Quilt is referred to as a "President's Wreath" block and is signed by Mary Blass. This same block is repeated twice in the Rev. Roberts Quilt and many other BAQs. While researching this block, I found that it could have been inspired by Nathaniel Currier's 1845 print of George Washington's inaugural parade in 1789. In the print, women with rose wreaths in their hair are strewing blossoms in front of Washington's procession along the streets decorated with rose garlands. A banner is draped over an arch which says, "The Defender of the Mothers will be the Protector of the Daughters."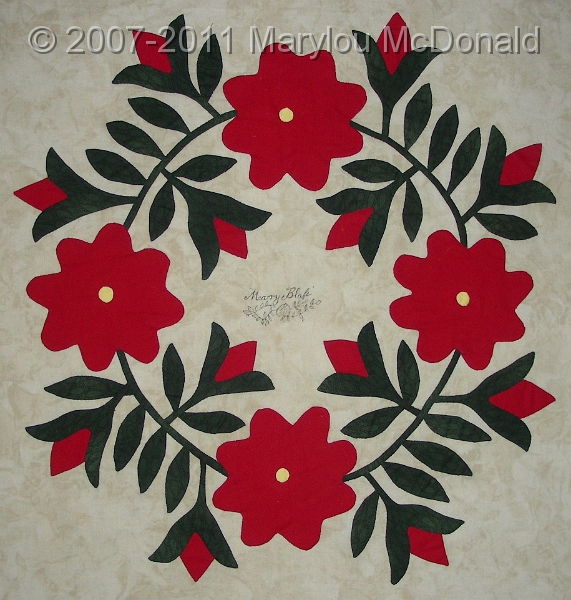 President's Wreath Block
Rev. Lipscomb MLU-L-3
See more histories